The Secrets of College Success
Listed by Members of College Passions
Calling All Readers! Like The Site Library?
Help Spread The Word...Tweet Our Crazy Awesome Awesomeness!
Sponsored Ad
go back to library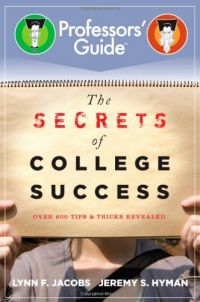 (click to view book on amazon.com)



Lynn F. Jacobs, Jeremy S. Hyman
If you're currently a college student, or plan on being one, you need to check out this book. Written by award-winning professors Lynn Jacobs and Jeremy Hyman, it's loaded with insider information that only professors know--but few are willing to reveal. The over 600 tips in this book will show you:
How to pick good courses and avoid bad professors
How to develop "college-level" skills and habits that'll put you ahead of the pack
How to get through the freshman comp, math, language, and lab science requirements--in one try
How to figure out what's going to be on the tests, and what professors are looking for in papers and presentations
How to pick a major you'll really like--and be good at
How to get the edge for graduate school--or the inside track to a really good job
And much more.
The tips are quick and easy-to-use, and the advice is friendly and supportive.  It's as if you had your own personal professor guiding you on the path to college success.



People who list this book:



go back to library



















NO STINKY DATES Amazon Ads




College Dating Sites
Student Tools & Resources
Parties & Events
Browse Colleges & Universities
College Shopping
Jobs & Internships
Online Dating Sites
Webcam Sites
Personals / Chat Sites
Miscellaneous